It's hard not to yearn for a holiday, especially at this time of the year. The decade is coming to an end, and it's the perfect time for a getaway with your friends.
Sadly, planning an overseas trip can be a hassle. It can be hard to find a time where you and your friends are free to travel. Just the thought of having to spend so much money on the trip can be a nightmare too, especially given how expensive plane tickets are at this time of the year.
But what if there's another option for a getaway?
Staycations might be what you need.
What's so great about staycations in Singapore?
Staycations are easy and convenient
The best thing about staycations are that you and your friends won't have to plan that much.
It can be on a weekend where everyone's available, and there's no need for itineraries or figuring out how to get from one place to another.
You won't have to deal with arduous tasks like comparing and booking the best flights, and finding a money changer with the best rates to exchange currency.
All you need to do for a staycation is to book accommodation, and take the bus, train, or cab to get there.
It doesn't get any more convenient than that.
Staycations are affordable
The cost can be what's holding you back from overseas trips.
Even if you're flying on a budget airline, the cost of plane tickets, accommodation, food, transport, and activities on the itinerary combined can reach a minimum of $500 per pax.
It gets more expensive when the place you're going to has no cheap public transport. Of course, forking out extra cash to take cabs or renting a car is an option, but would you want to spend all your time travelling this way in a foreign place?
Whereas for staycations in Singapore, your cost will mainly be on accommodation. You won't have to worry about overspending or running out of cash, and you get to enjoy your day more freely.
Staycations are relaxing
There's just something special about staycations. You can get away from the bustle of the city, sit back and relax, and spend some quality time with your friends.
With overseas trips, however, you might not be able to take a well-deserved break if you're going to pack your itinerary to maximise your time there.
Now, you're probably thinking of having your staycation in a hotel. How nice it would be to swim in the infinity pool too.
Well, having staycations in hotels do sound appealing, but doesn't it seem to become all too common? You find on your Instagram feed that when someone is having a staycation, it's almost always in a hotel.
Want something more unconventional than a hotel? How about taking it up a notch by having your staycation on a yacht!
Why should you have staycations in Singapore on a yacht?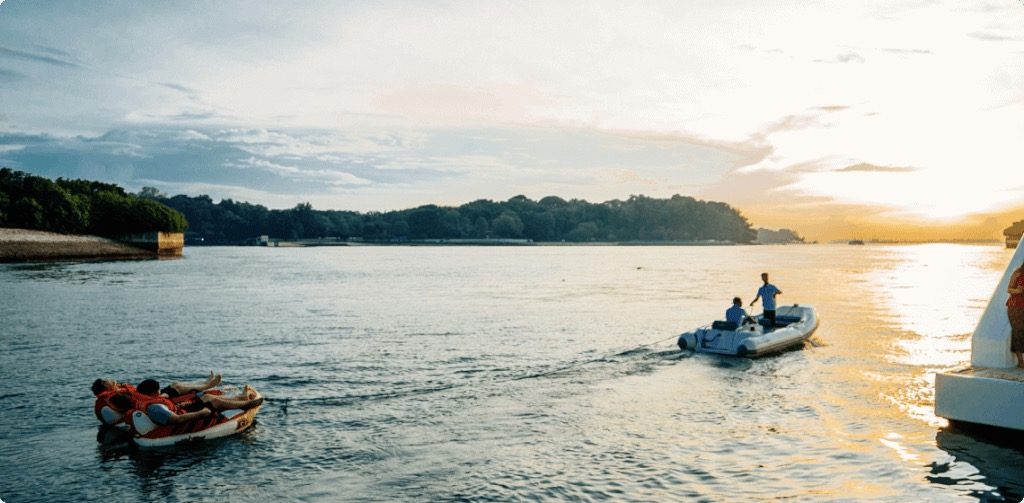 Ever thought of yacht staycations? It will certainly make for a unique experience!
Just imagine, you'll be waking up to the morning breeze, seeing the sunrise while floating in the middle of the sea.
Not only will you and your friends remember it for many years (and decades) to come, it's also something to flaunt on your social media!
Picturesque view
As you sail away from the main island of Singapore, you'll be able to enjoy a view like no other from the yacht.
For a start, a panoramic view of the city, as well as the smaller islands surrounding, such as the Southern Islands and St John's Island. The sea view and breeze have a subtle calming effect too.
At night, you'll get to marvel at the city skyline in Marina Bay like never before as you view it from a different angle.
Enjoy the best of both worlds
Having staycations on yachts also mean that you can easily alternate between staying on board and being in the waters as and when you like.
Bored of chilling on the deck? Go for a dip in the waters. Tired of staying afloat in the ocean? Climb on board and have a cocktail.
Out-of-the-ordinary activities
There are lots of things that you can do on yacht staycations in Singapore, compared to the typical staycations in hotels.
Whether it's staying dry or getting wet, there's something for everyone.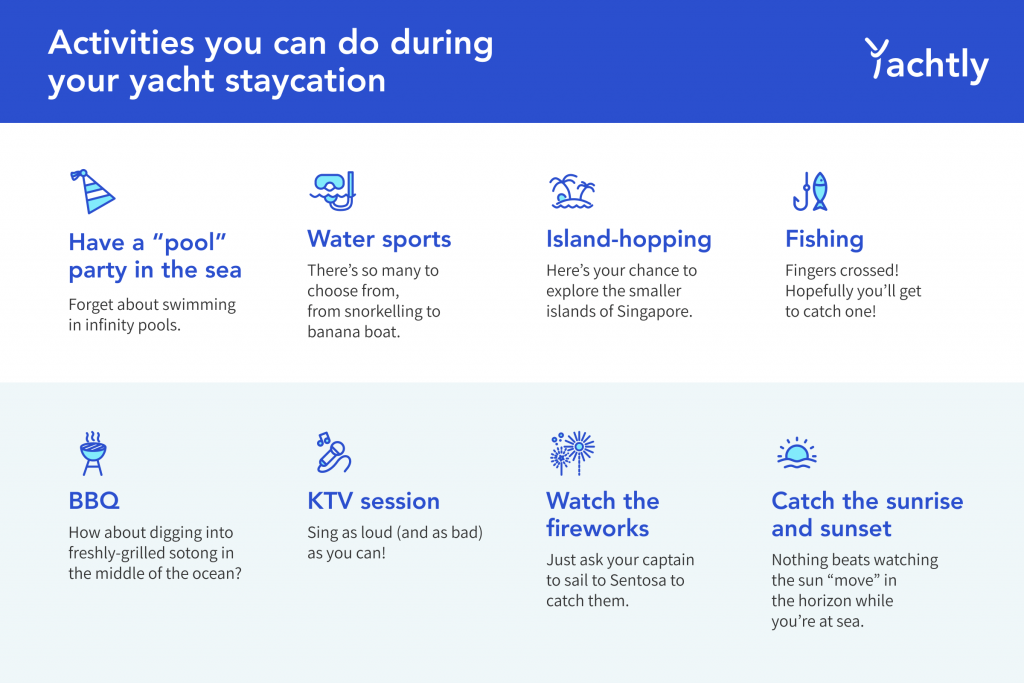 Have a "pool" party in the sea
What's better than a pool party? One that's in the sea!
Now's your chance to swim with your friends in the real infinity pool. Or you can chill on the float and watch the clouds go by as you sip on a cold drink.
Water sports
There are tons of water sports to choose from! Some yachts have water toys included with the rental, so have a go at all of them!
Instead of snorkelling overseas, why not do it during your yacht staycation?
You can also rent water toys like kayaks and stand-up paddles, and race them with your friends. Get your adrenaline pumping! – It's definitely going to be more challenging than having them in the reservoir!
How about riding the banana boat? Feel the sea breeze (and salty ocean water) sweeping on your face as the boat gets towed by the motorboat.
Island-hopping
You can use this chance to venture to the smaller islands of Singapore as well. Take a break from kayaking and stop by Lazarus Island for a sun-tan.
Fishing
Want something more relaxing? Take out the fishing rods and fish away. If you're lucky (and patient) enough, you might even be able to catch one!
BBQ
Another cool thing that you can do onboard is having a BBQ. It's undoubtedly going to be different from the ones that you usually have in chalets.
If you're usually the one who deals with all that fanning and cooking (while your friends sit by instead of helping you), you'll be glad that you can take a break from that.
The crew will be cooking for you, so you can just chill out with your friends and wait to dig into that sambal sotong.
KTV session
Since you and your friends are in the middle of the ocean, you might as well sing together as loud (and as bad) as you can!
What's more, you're free to sing as and when you like it, as long as it's within your yacht rental time.
Since most yachts come with a KTV machine, you won't have to skip less appealing songs from the playlist, and worry about exceeding the time limit like you normally would when renting a KTV room.
Feel free to sing the whole night away until your throat is hoarse.
Watch the fireworks
If the timing is right, you can even get to watch the fireworks from the night shows in Sentosa. Just ask your captain to sail the yacht there.
Catch the sunrise and sunset
The best thing about an overnight yacht rental in Singapore for a staycation is that you'll be able to catch the sunrise and sunset.
Sit on the deck and watch the sun slowly rise and set over the horizon. That's something you'll probably be unable to experience on land.
Get your cameras ready too! You won't want to miss snapping some shots of those golden moments.
What staycations can you do on a yacht?
You can host any kind of staycation on a yacht. Celebrating special events like birthdays or anniversaries, even hosting annual gatherings or grad trips.

Having a staycation on a yacht can be a cheaper alternative compared to renting a chalet or booking a hotel.
Finding an unconventional venue for your corporate retreat? We have what you're looking for.
How to plan for yacht staycations?
Gather your friends and start planning for an unconventional staycation that you'll never forget.
Settle on the date and activities
Find a weekend where you and your friends are free to sail. The more the merrier! It gets cheaper since more people will be sharing the cost.
You can also begin listing down the activities that you and your friends want to do during the staycation.
Start booking a boat on Yachtly once you've settled on a date. Do take note that different yachts have different capacity and amenities available. Be sure to check if you're booking the right boat.
Here's an overview of the amenities available in our economy yachts.
Name of boat
Capacity
Amenities
Starting price (min. 4 hours)
Kingdom
30 guests
– Cabins
– Microwave
– Toilet
– Cooler box
– Kayak
– Fridge
– Kettle
– TV
– Sound system
– Inflatable float
$1,080
Leviathan 88
22 guests
– Cabins
– Toilet
– Kayak
– Water mat
– Fridge
– TV
– Karaoke
– Stand-up paddle
– Sound system
– Cooler box
$788
Carver 43 – Sgyacht
22 guests
– Life jacket
– Kayak
– Ice box
– Microwave
– Fridge
– Kettle
– Sound system
– TV
– Karaoke
– Stand-up paddle
– Toilet
– Cabins
$559.81
Sardinia
37 guests
– Life jacket
– Toilet
– TV Cabins
– Electric BBQ pit
– Sound system
– Kettle
– Microwave
– Kayak
– Ice box
– Fridge
$1,520
Prestige 46 – Golden Ocean
18 guests
– Toilet
– Life jacket
– Kayak
– Microwave
– Electric BBQ pit
– Ice box
– Cabins
– TVSound system
– KettleFridge
$920
Lagoon 400
18 guests
– Cabins
– Fishing rods
– Snorkelling masks
– TV
– Kettle
– DVD player
– Fridge
– Ice box
– Sound system
– Toilet
– Microwave
– Life jacket
– Kayak
$599
Clipper Heritage – No Name One
18 guests
– Water mat
– Kayak
– Cabins
– Fishing rods
– Stand-up paddle
– Kettle
– TV
– Snorkelling masks
– Life jacket
– DVD player
– Sound system
– Microwave
– Ice box
– Karaoke
– Toilet Stove
$750
List down what you need to bring
Next, you'll want to list down the things that you and your friends need to bring for the yacht staycation. It shouldn't be much, as almost everything is available onboard. The essential items to bring along will just be some spare clothes and towels.

You can also bring your own food, drinks, and cutlery onboard too. Feel free to bring your own booze as well, since we don't charge any corkage fee.
Add any add-ons
But if you find that bringing your own food is a hassle, you may opt for a BBQ on board. Just order it as an add-on during the booking. Do take note, though, that only the crew is allowed to do the cooking onboard. Additionally, there's a BBQ service fee for the BBQ pit, cooking, and cleaning up.
Inform us that you're staying overnight
Last but not least, be sure to email [email protected] to let us know that you'll be staying overnight so that we can make the arrangements.
Having a yacht staycation can be the perfect getaway for you to take a break from school or work, and away from the bustling city.
Happy planning for your next staycation!
Looking for a unique wedding venue in Singapore? Why not consider celebrating your special day on a yacht!