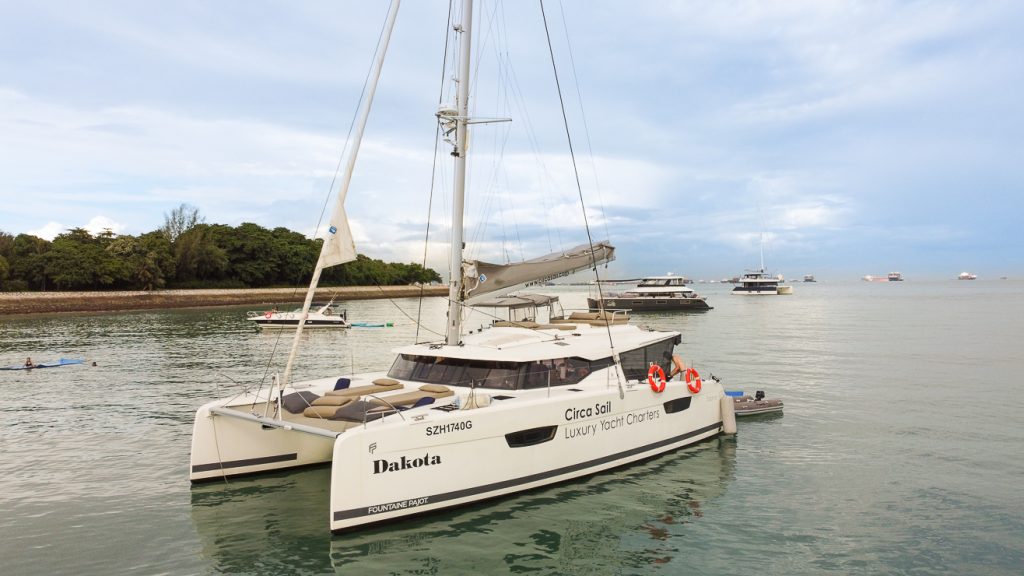 Yacht charters have always been a favourite for many locals and expatriates to take a short trip without breaking the bank or going away for days. Even with the recently introduced Vaccinated Travel Lanes (VTLs), there is still some uncertainty about travel plans, with new waves of cases and multiple tests before and after the trip. Closer to home, in Singapore, new policies on dining restrictions and Safety Management Measures are announced every month. But let's be real here – after almost two years of being cooped up at home, we're all itching for a bit of adventure.
Since the beginning of Phase 2 up to the recent Omicron variant, customers are coming to us to ask about our yacht rentals and yacht charters. Of course, we know that health is always a top priority, so we always adhere to government standards and regulations. Still, we understand that there may be some concerns surrounding safety and social distancing, and you may be thinking of rescheduling your boat trip. Don't worry! With the pandemic and new measures in place, yacht charters are one of the safest ways to have a little luxury fun.
Still, thinking about whether to hire a boat for your next birthday celebration or weekend getaway? Here are five reasons why yacht charters are the best activity to do during the pandemic!
Yacht charters are private and far away from crowds.
Even as things are beginning to open up, new clusters still appear in public spaces. The current restrictions state that dining establishments can only hold five vaccinated guests. So, whether you're planning a corporate party or a friend outing, a yacht charter beats going to a restaurant and sitting at separate tables. Plus, you and your guests would only intermingle amongst yourselves. As a responsible yacht charter company, Yachtly ensures that guests adhere to the five-person rule in different groups on board so you can bring a couple of friends and family along in a safe space away from crowds. This means that even with masks off to eat and drink, you never have to worry about coming into contact with potential carriers as long as you and your guests are tested and safe.
Yacht parties are also one of the best and quickest ways to experience a luxurious getaway. It's your own private and secluded enclave right on the water without worrying about other people invading your personal space. And you don't even have to leave the boat to enjoy the scenic views right outside Singapore's shores! Of course, there is an option to explore the neighbouring islands, but these places are still less crowded than in the city. With minimal contact, you and your guests can have peace of mind while celebrating any occasion.
For more information, do visit: https://www.mpa.gov.sg/web/portal/home/port-of-singapore/craft-licensing-and-port-clearance/safe-management-measures-for-pleasure-craft
Yacht charters are outdoors, which means lots of fresh air.
If you're thinking of embarking on a day in the water to get in a breath of fresh air and different scenery, a yacht charter is a way to go. In light of the pandemic, we've all been spending way too much time at home in the past year. Even with restaurants and attractions opening up, it can get a little stuffy sometimes. A boat brings you out into the open sea, with lots of fresh air. The sea is an excellent source of fresh, unpolluted air, which we could all do with a dose of. 
The best part? You get plenty of sea breeze, but there are still indoor areas where you want to take a break from the salty ocean air and relax in comfort. Our yachts are fully equipped with rooms, toilets, dining areas and more amenities for both indoor and outdoor fun. That is undoubtedly the best of both worlds.
Qualified boat crew; so you're in safe hands.
It is essential to have an experienced crew onboard to ensure safety. At Yachtly, we take regulations and Safety Management Measures very seriously. All members of the team are fully vaccinated and wear masks. Furthermore, we ensure that they are not allowed to work if they feel unwell on the day itself. The crew will remain throughout the boat trip and adhere to safety protocols. Not only that, the team aims to deliver personalised luxury experiences that you cannot get anywhere else. With a dedicated team for every yacht charter, guests can enjoy full attention from the crew to make their ride special. Think fine dining experiences, personalised drinks, delectable sunset meals and more.
Yacht holidays – a vacation less than an hour from home.
Yacht charters can transform a mundane Sunday afternoon into an idyllic beach getaway in less than an hour. So if you're getting tired of the CBD views from your monthly staycations, why not take a day to explore the Southern Islands? With many islands on the coast of Singapore to explore (our personal favourite is St. John's Island) and sights to see, your afternoon will be packed with activities for you and your loved ones. Our yacht charters come with the option of having water sports equipment and snorkelling needs so you can explore sea life just like you would on an exclusive beach destination far away. So grab a couple of friends and family and get ready for a splashing good time.
If you're into isolated relaxation, don't worry. There is no fixed itinerary, and your vacation is entirely up to you. Whether you want to sit back and enjoy a romantic private dining meal with your partner or feel the thrill from wakeboarding, just let the crew arrange it for you. Hop on one of our kayaks for a nice balance between relaxation and adventure.
Yacht charters don't break the bank.
Cruise ships probably come to mind when you think of travelling in a pandemic. Or perhaps you're considering taking that super expensive VTL flight. Before your need for wanderlust puts a dent in your wallet, come try out a yacht charter to fulfil your travel needs. Yacht charters are good and don't take much time to plan for. They're one of your best options for affordable luxury. In a time of social distancing, why not take advantage of private leisure experiences in your secluded spot? Yachtly offers competitive and affordable priced yachts based on your selected boat and add-ons. A range of yacht rentals can start from a low price of $600 for 4 hours, five guests. You could add food and beverages, water toys, and host more guests in accordance with Safety Management Measures.
With a range of activities, such as private chefs, water sports and more, you're no short of entertainment when you hire a boat. Plus, they all come at a fraction of the price of getting on a plane ride to a private resort on a faraway destination.
Yacht Charters Made Easy with Yachtly
If you're wondering about the best yacht prices, then fret not as Yachtly provides a range of yacht options for you. As Singapore's first yacht rental and yacht charter marketplace, we connect yacht owners to yacht renters with a few clicks!
Here's how you can hire a boat in less than 10 minutes on Yachtly.
Step 1: Select your occasion, date, time and number of people.
Whether it's for a wedding or solemnisation, corporate retreat or just a party with friends, we have the yacht for you. Also, note that the current Safety Management Measures state that yacht charters are limited to 5 people.
Step 2: Pick your preferred yacht and add-ons
After you let us know the details, we will recommend the best-fit options based on your needs. There is something for everyone with a range of large, small, premium and economy fleets. Then, select your add-ons such as water sports equipment or other experiences so we can arrange them for you.
Step 3: Submit your booking request
We want to ensure that our guests have the optimal yacht rental experience, which is why we make sure that everything they need is available on the day itself. Our team will review your booking request in less than an hour and give you up to 24 hours to confirm it.
Step 4: Complete payment and leave it all to us
Once payment is complete, it's time to sit back, relax and let us facilitate your yacht charter for you.
The pandemic doesn't mean that we have to completely forget about relaxation, leisure trips and reconnecting with our loved ones. Yacht charters bring together friends and family on their private escape, still putting safety as a top priority.