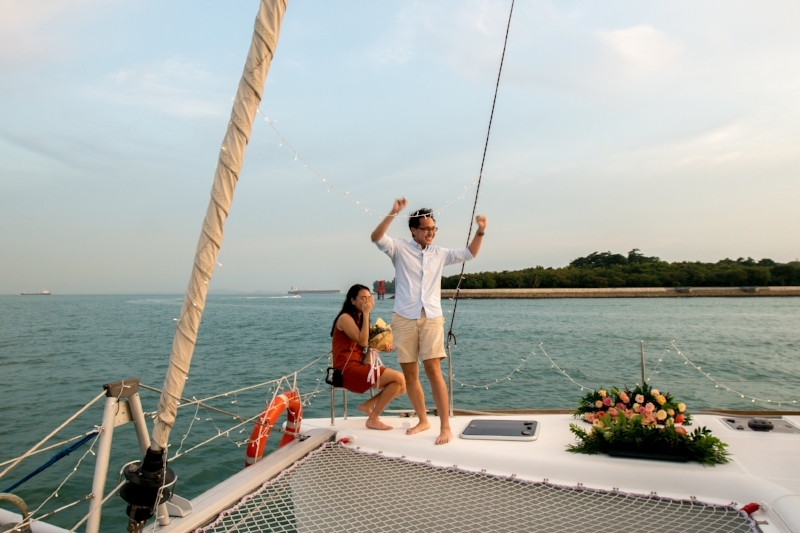 If you're reading this it's because you've probably been racking your brain trying to come up with a uniquely memorable proposal idea. Read on and find out why a yacht charter proposal could just be the best for you.
Proposals today are almost always about over-the-top romantic gestures that don't just fill the air with an everlasting love but are also social media-worthy. That's why coming up with an idea to mark such a special occasion has become incredibly challenging—especially if you're lacking in the creativity department.
But proposing to your would-be partner in life to pop the question is no easy feat. We get it. So instead of the typical affair, we thought you may want to consider a yacht proposal, which is one of the top proposal ideas in Singapore, and here are all the reasons why:
1. Yacht Charter Proposals Are Incredibly Romantic
What could possibly be more romantic than chartering a yacht for your proposal with the sight and sound of a deep, blue ocean calmly moving beneath you as you get down on one knee during the golden hour? Melt…
The sea tends to bring out the naturally adventurous and romantic side of most people, generally speaking, especially when it involves an intimate and idyllic night on a beautiful yacht offering as much privacy—or as little—as you wish.
And let's face it, no restaurants, no hotels, no other your typical area could compare to actually being on the water!
2. Proposing on a Yacht Adds Luxury to the Equation
One of the best things about a yacht proposal or even a yacht wedding is that it won't end up costing you as much as actually owning a yacht.
What we mean by this is that you get 100% of the luxury for a fraction of the price and that luxury adds so much magic and grandeur to the night, which will make it feel like one of the most elegant evenings of your life.
Just think about it: A spacious deck, lavish indoor and outdoor lounging areas, beautifully designed bedrooms, a full kitchen, a romantic dinner, champagne, and in case we haven't mentioned it already—the ocean and the sunset.
3. Yacht Charter Proposals Offer a Certain Level of Privacy
Another reason why a yacht charter proposal is the way to go is that it can offer as much privacy as you want.
Not everyone wants to be surrounded by a bunch of people when the big question is popped, whether those people are strangers or even family.
When you want the occasion to be more intimate and private, then hopping on a yacht and sailing away from the hustle and bustle of city crowds and or noisy restaurants is your best option.
You won't even have to worry about the captain or the crew either—they're pros at giving their guests the space they need and will do whatever you ask to help make the moment that much more special.
Additionally, if having family and friends there to share in your special moment is important for both you and your partner, you can always choose to bring them aboard. You would just need to work out the details and guest list prior to booking the yacht.
4. Renting a Yacht is Always Fun!
Yacht adventures are usually fun for everyone involved. Your partner will surely enjoy the fact that you planned a romantic night on a yacht for the two of you and if you have your family and friends involved, they'll be genuinely grateful to have been invited aboard.
This is especially true if there's good music, perfect weather, delicious food and cocktails. Everyone will have fun dancing and spending quality time enjoying the ocean air.
They'll be even more excited to be in on the surprise (or be surprised if you haven't told them) when it comes time to propose.
Bonus points if you have a few people helping you to capture the moment with photos and videos.
5. You Can Opt for Additional Services for Yacht Proposals
When you plan a yacht charter proposal, you won't be planning alone. Many yacht rental companies offer several additional service packages and amenities for special occasions that include meals, cocktails, decorations, and even photography. Just let us know your thoughts and we will handle the logistics!
Some even have the option to include a professional chef to prepare a gourmet celebratory meal for you and your partner or guests. Or you may have the option to also charter a limo that will pick you and your partner up from your home and bring you to the dock for that extra special touch.
If you choose to do most of the legwork yourself, you'll still be able to count on the captain and crew to help make the night special in any way they can, even if it just means hanging a few twinkle lights and pouring the champagne.
Overall, you'll be able to transform the yacht you rent into an official love boat that'll truly set the mood—specifically the saying yes mood!
Plan Your Yacht Charter Proposal With Us Today
Nothing beats a beautiful evening with the light ocean breeze kissing your skin and blowing through your hair as the golden hour approaches you and the love of your life. That type of evening is even more unbeatable when it's topped off with a beautiful ring, champagne on ice, and a love that will last a lifetime.
When you plan a hire a boat for your proposal, you're planning an experience that you and your future spouse will cherish until the end of time. It's a special moment that you'll be telling your children and future grandchildren when they need proposal ideas.
When it comes to proposal ideas in Singapore, nobody helps to mark the occasion better than us. We offer a wide variety of yachts that are perfect for proposals, complete with an experienced captain and crew that'll be there to make sure that everyone who comes aboard is safe and has a memorable time.
We also offer additional services including decorations, food, beverages, photography and more.
We'd also like to mention that we have a 100% "yes!" rate for yacht proposals. After all, who can say no in such a breathtaking atmosphere?