The most fun, yet vexing part of a birthday party celebration has to be the planning phase.
Where should you hold it? Should it have a theme? Are you going to go all out with your guestlist, or keep the circle of attendees to close friends and family only?
Most of us forgo birthday parties entirely, and stick to just the main events – a meal with your loved ones, and a cake at the end. But for those who are looking for a venue in Singapore to celebrate their 21st birthday, why not do things a bit differently?
Why You Should Host Your Birthday Party on a Yacht
When it comes to once-in-a-lifetime birthday parties, yachts tick off all the necessary checkboxes. Here are 3 reasons why:
1. Incredibly unique venue
When it comes to something different, few places manage to match the 'wow' factor of a yacht. They're a perfect blend of elegance and classiness, and can impress even the most skeptical partygoer.
At Yachtly, you're provided with a nice range of yachts for you to choose from, regardless of the size of your party.
If you're looking for a small, private affair, the Ocean Blue can fit up to 10 people, and hosts activities that can keep your entire group entertained for the duration of the trip. With a specially built cooler on deck to keep your catches fresh, fishing onboard the Ocean Blue is something that cannot be missed. 
If you're looking at a large party, the Sardinia, with enough room to hold up to 37 people, is a great way to amp up the fun factor. The Sardinia is big enough that you can set up small tables and chairs on board, and partake in an electric BBQ session. Do note, however, that the BBQ can only be operated by the crew. 
Even if you want to pull out all the stops and host a huge party with 55 people, Yachtly has you covered. Behold the ANKA, a 75-feet long yacht that has over three decks of interior and exterior space.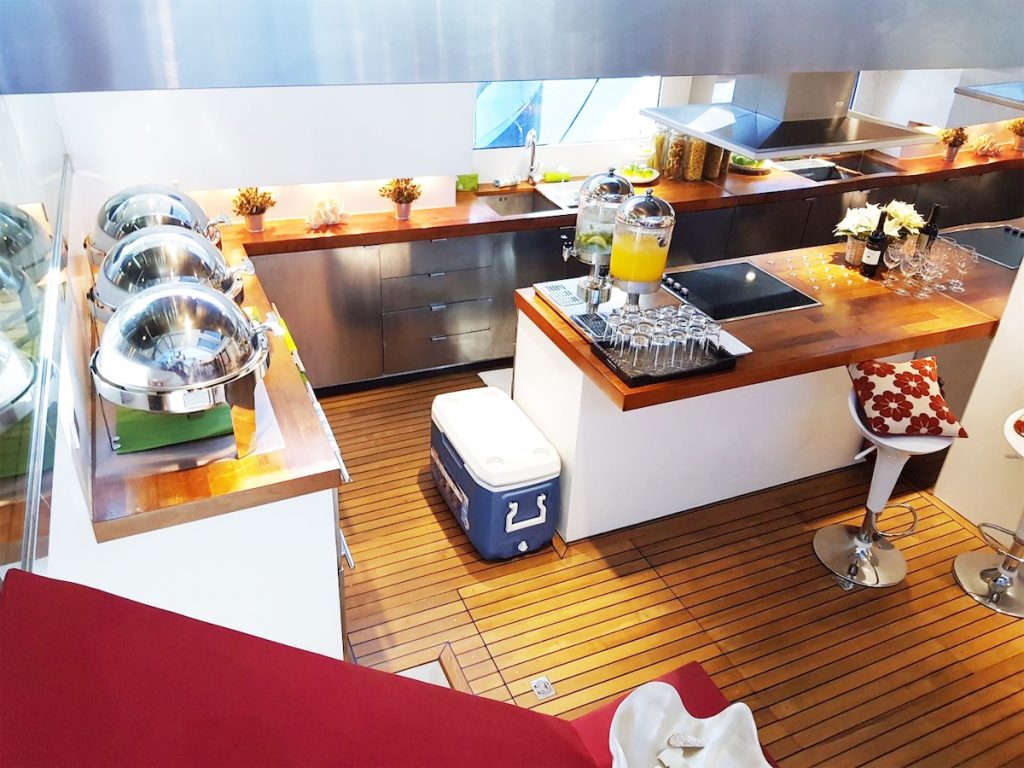 The yacht is large enough to hold a jacuzzi, a karaoke system, and even a fully equipped kitchen. With kayaks available on-demand for your guests, everyone is sure to have a whale of a time on the ANKA.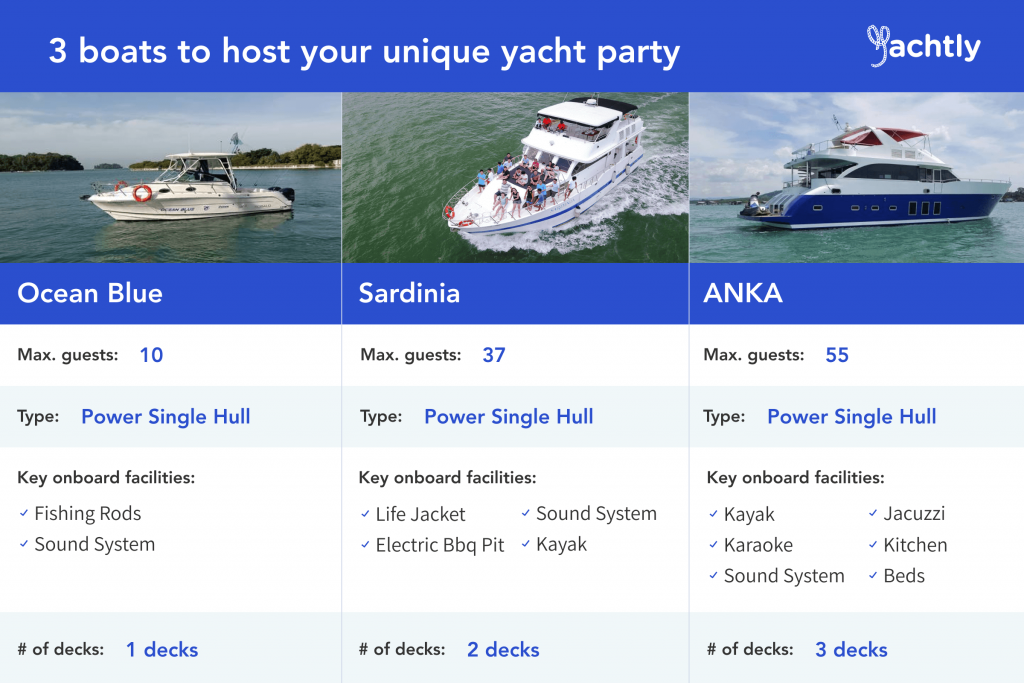 Here's a quick breakdown of the 3 recommended yachts to host your birthday party in Singapore:
If you're unsure of what a Power Single Hull yacht is, feel free to check out our article on yacht rentals in Singapore, which includes all the information you need to know about the various types of yachts!
2. Unlimited possibilities for entertainment
Although there's a maximum number of guests you can bring for your yacht birthday party, you may sometimes find that you have some extra room. When this happens, why not make the most of that free space to hire someone to brighten up your party?
One of the best ways to liven up any party is to include a selection of music tailored for the occasion. If you have extra space on deck, why not consider hiring a DJ to keep the mood upbeat?
On the other hand, larger parties might call for more entertainment. To make things even more exciting, you could also consider hiring a magician to perform for your guests.
If you'd prefer something more hands-on for your yacht birthday party, another option you could take is to rent water toys. Kayaks and motorboats are one of the few things that are available for rent, and watersports are guaranteed to create joyful memories for anyone who partakes in them.
Yes, you could argue that you can hire a magician and DJ for a party in the mainland, and rent kayaks and motorboats for seaside events. However, there is a sense of exclusivity when it comes to a yacht that you won't be able to find in a landlocked party.
3. An experience to tell your grandchildren
Not everyone can be privy to the scenery that you get to see while on a boat. The white crests of the billowing waves, the skyline of the city from sea level, and an endless, glittering expanse of ocean, dotted only by the occasional ship – these experiences etch themselves into the memories of your guests. When you see the world from a yacht, the view stays with you forever.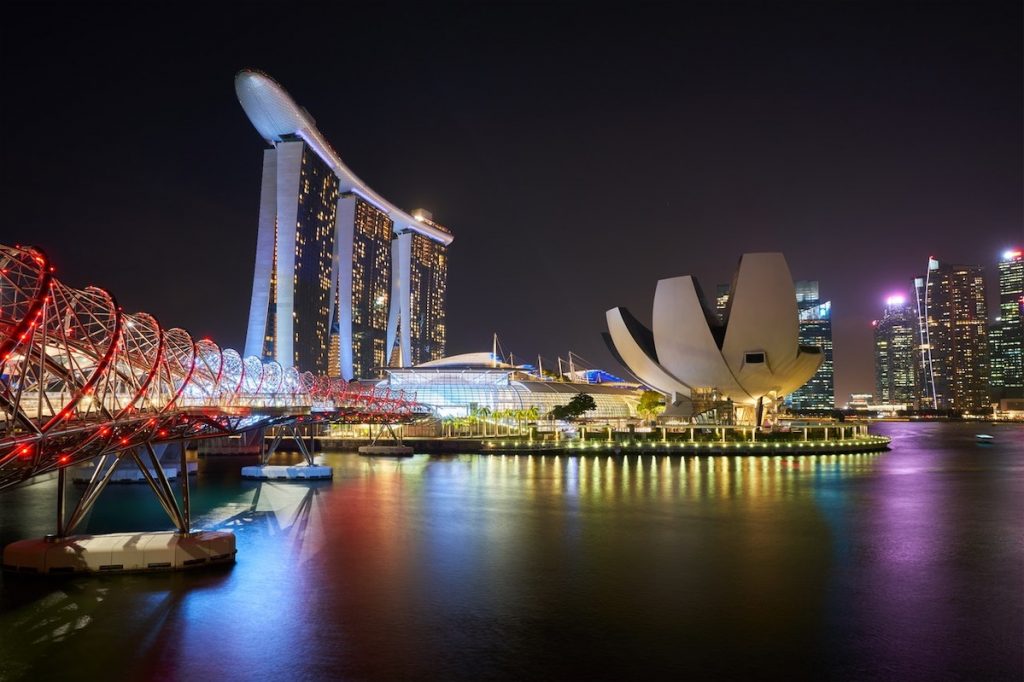 Better yet, the view isn't the only noteworthy thing. If you decide to get the on-board BBQ option, you even get to partake in delicious, barbequed food while sitting on board a watercraft.
If you're looking for a way to unwind and find some creative inspiration, a yacht will do wonders in opening up your mind. It also helps that there's delicious, hot food available for consumption.
Alcohol isn't provided, but you can bring your own booze on the yacht if you want. If you are planning to bring red wine, be extra careful – spillage of red wine can stain the decks of the yachts, which will incur a penalty.
While alcohol can definitely liven up a party, guests should take care to drink responsibly, as it might be dangerous to get drunk while sailing across the ocean.
If you're looking for a great send-off to your evening, you can ask the yacht captain to sail you over to Sentosa. There, you can commemorate your birthday party with fireworks from the nightly Sentosa shows. If you want to, you can also watch the entirety of the 30-minute long light, sound, laser, water, and firework display.
Things to consider before booking your yacht
If you're looking for an extra oomph, you can also opt to decorate your yacht before your party starts. This means that you'll have to plan your guest list ahead of time.
Once you've confirmed your guest list, you can begin to narrow down the yachts you want. Larger yachts usually allow for more activities, such as games and karaoke lounges. However, they may be a bit more costly than their smaller counterparts.
The best part of chartering a yacht is that no matter which model you choose, there is no age restriction. Everyone, from little kids to the elderly, will be able to enjoy themselves on a yacht. The only limitation is that you cannot bring a pet on board.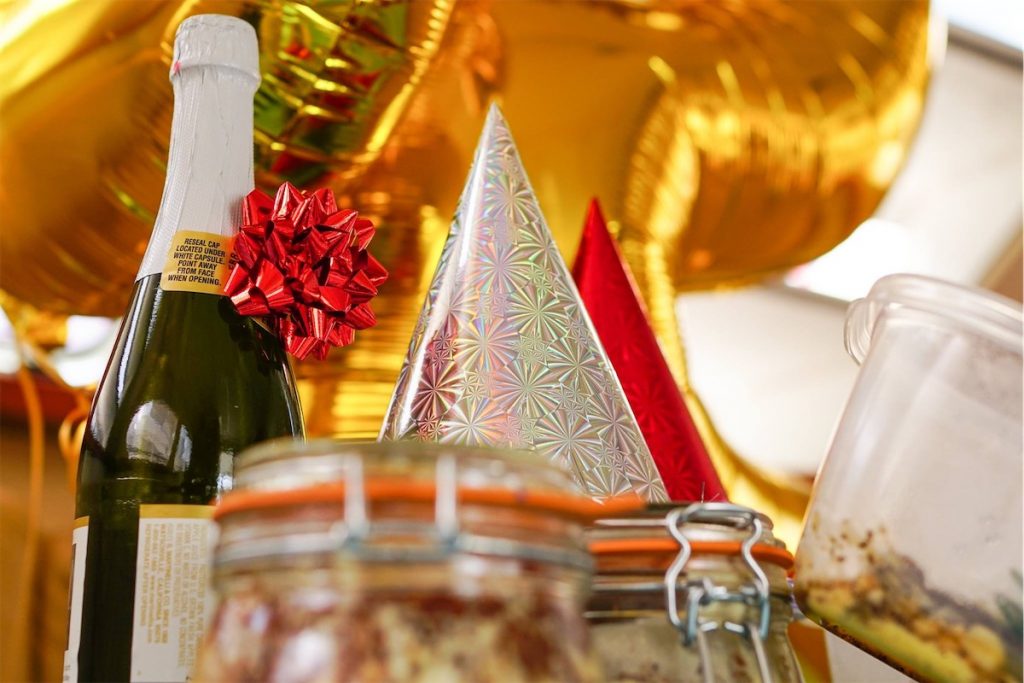 When you've chosen your yacht, you can start on decorations. A themed birthday party will provide more flavour to your event, and make it even more memorable for your guests. You can also consider a dress code – but take into account that some of your guests may want to partake in water games, so don't dress too formally!
If you're looking to host your birthday party in Singapore on a yacht, here are some common queries
Each yacht will have its own set of rules that guests should follow. The one rule in common across all yachts is: Always listen to the captain, and don't commit any rash or irresponsible acts.
1. Are there any hidden costs?
No. The price covers everything under "What is Included". Any add-ons are just that – add-ons, the prices of which will be listed when you make the booking.
2. I booked a yacht for my birthday party. What happens if I need to cancel my booking?
Each yacht has its own cancellation policy. You can view our cancellation policies here.
3. What happens if I need to change my booking after confirmation?
Get in touch with us and we'll help you out.
4. How do I know if my booking is confirmed?
You'll receive a confirmation email with your booking reference, and all details pertaining to the charter.
5. What is the difference between "Instant booking" and "Request to book"?
The difference between the two is whether you're guaranteed a yacht at the date and time you've chosen.
6. Can I cook my own birthday feast onboard the yacht?
No – due to insurance policies, all cooking can only be done by the yacht's crew.
7. Can I bring my own food and drink?
Of course – whether it's hosting a birthday party or just renting the yacht, there are no restrictions to bringing your own food and drinks. However, you'll have to bring your own cutlery.
If you are planning to bring red wine, be extra careful – spillage of red wine can stain the decks of the yachts, which will incur a penalty.
8. Do I have to bring my own cutlery?
If you're bringing your own food and drink, you'll have to bring your own cutlery. If you ordered food through us, then we'll provide it. Please also bring disposable plastic cups, since the yacht may run out of supplies.
9. Do I need to bring anything else for the charter?
We recommend you bring a spare change of clothes and towels, since a lot of the activities onboard will involve water.
Is there any mobile phone coverage on the yacht?
Yes; you should have mobile coverage for the entire duration of your itinerary. The signal at Lazarus Island can be intermittent, but it's generally workable.
Can I have different amenities than the ones listed on the yacht's page?
Unfortunately, no – these amenities aren't transferable between yachts.
Can I sail non-stop?
No. The yacht rental fee includes fuel only for the itinerary. The yacht also has to anchor in order to prepare water toys and any food you ordered.
Can I stay overnight on the yacht?
You can! Please drop us an email at [email protected] to find out more.
What if the weather is bad?
Singapore's tropical climate means that sometimes, thunderstorms and passing showers occur.
If rain happens, the charter will proceed since there is no impending danger to property or any lives. If the rain develops into a thunderstorm, we'll delay the charter for up to an hour.
If the weather doesn't clear up, we'll reschedule your charter to a mutually agreeable date and time. We recommend contacting your captain to get an onsite assessment of the weather.
Can I ask for more water toys?
At the moment, you can only request for additional water toys if the yacht has them. We're working on making more water toys available in the future.
What's included when I have the BBQ service add-on?
The yacht's BBQ service is a nominal fee for the crew to set up the pit, cook and serve the food, as well as cleaning it up after.
This service doesn't include the actual food for the BBQ, though – you can order it through us, or bring your own.
What kind of food do you provide?
While we don't prepare food in-house, we've partnered with reputable catering companies who are Halal-certified such as Neo Group.
We offer two categories of food: Cooked food, and BBQ food. If you order cooked food, it will be prepared by the catering company and sent to the yacht in takeaway containers.
For BBQ food, the ingredients will be sent to the yacht and cooked onboard. Before ordering BBQ food, check if the yacht you're renting provides BBQ rentals.
What about safety onboard the yacht?
Prior to setting sail, the captain will give a safety briefing. It is important to listen to this to prevent any accidents. In the event one does occur, you should inform the captain immediately.
What kinds of safety equipment does the yacht come with?
All safety equipment onboard each yacht is regulated by the Maritime Authority of Singapore. They include but are not limited to: life vests, communication and navigational equipment, among others.
Are children and pregnant women allowed onboard?
Yes! For pregnant women, it's best that you are in good health so that you can enjoy the trip. For children, there are no age limits – let us know how many children there will be so we can prepare the appropriate number of life vests for them.
Is smoking allowed onboard?
Rules regarding smoking are different for each yacht. As a general guideline, smoking is only allowed in the rear of the yacht after it anchors. The captain will cover the do's and don'ts in their briefing.
If you need more information regarding our policies for renting a yacht, check out our FAQ here.