Private parties can range from events such as intimate cocktail nights, media showcases, to casual-themed parties. Regardless of the kind of party you're having, you'd most likely prefer to keep it intimate and private between you and your friends.
You could book a hotel room or a chalet for your private party, but it's becoming too common to hold them at these event spaces. Whenever you're invited to a party, doesn't it always seem to be either in a hotel room, a function room, or at a chalet?
Ever thought of hosting your private party on a yacht, in the middle of the sea? Now, that's something exclusive and novel to shout out on Instagram.
Hosting your private party on a yacht can be an exciting experience, especially for your guests. Never would they've thought they'll be sailing out to sea and enjoying a breezy view for a party.
What kind of private party can you have on a yacht in Singapore?
You can have almost any kind of private party onboard a yacht! Whether it's a graduation party with your friends or a company cocktail party, it's definitely more memorable having it onboard a yacht.
Take "pool" party to a whole new level by having it on a yacht, where you can swim and snorkel in the middle of the sea.
There are all kinds of parties that you can throw on a yacht, and the list goes on. From dinner and dance, costume parties, fundraising parties, farewell parties to after-parties.
Here are 8 tips we have to help you host the best private yacht party in Singapore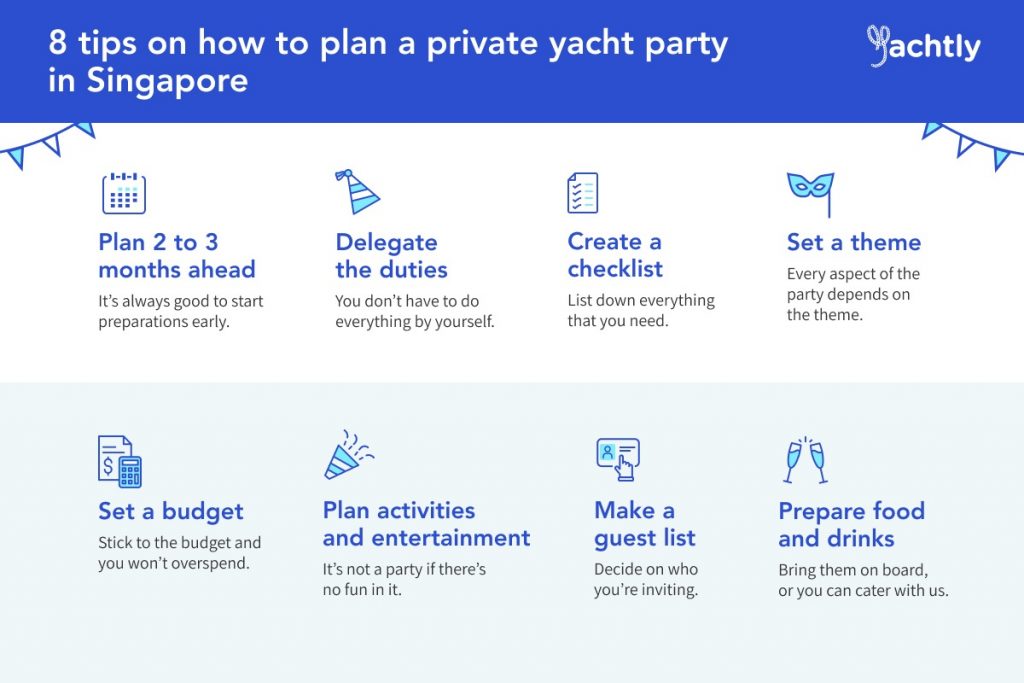 Hosting a private party is no small feat. From setting the date to preparing the food, here are our tips to help you plan and organise a memorable one.
1. Plan 2 to 3 months ahead
First things first, give yourself 2 to 3 months to plan the private party. Regardless of the scale of your party, it's always good to start preparations as soon as possible.
At this stage, decide on the kind of party that you want to have. Let's say you're hosting a graduation party to celebrate the end of school and the start of adulting with your friends. Will it be a BBQ party or a dance party?
Next, it's time to set the date and time. It's best to have it during the weekends so that everyone is available. Before you decide on the date, be sure to check with your friends on their availabilities. You certainly wouldn't want to host a party on a day when a lot of people can't make it.
Already have a date in mind? Inform your guests and start renting a yacht for your private party.
Do take note that Yachtly provides yacht rental at a minimum rental duration of 4 hours.
2. Delegate the duties
Planning the private party by yourself can be exhausting and time-consuming. So be sure to divide the tasks and get your friends to help you run the show.
If you know someone who's good at art, task him or her with the decorations. But if you prefer someone with more experience to help you, you can also consider hiring our event staff to facilitate the party.
3. Create a checklist
List down everything that you need for the party, from decorations, food, cutlery to games. If you're celebrating your 21st birthday, don't forget to include the birthday cake, knife, candles and lighter on the checklist as well.
It's advisable to include a timeline on your checklist, specifying the deadlines for getting these items ready. You want to ensure that you can get everything prepared before the party starts.
Here's a small tip we have: bring along a Bluetooth speaker. It's not a party if there's no music. Some yachts do have built-in karaoke system however, so you might want to check that out!
4. Set a theme
Though it's not necessary, it'll be good if you have a theme for your party as well. It can help you plan and guide every aspect of the party, from the decorations to the dress code.
When you're setting the theme, ensure that it's suitable for the kind of party that you're having. You should also go with something that you like. Love retro? Set it as a theme for your party and get your friends to come down in their best retro outfit.
5. Set a budget
Besides setting the date, it's important that you start deciding how much you're willing to spend on the party when you start planning it. You should also keep in mind the number of people who are coming to your party when you're setting the budget.
Start by allocating a rough cost for each aspect of the party based on your checklist, from the cost of renting the yacht, food, to the decorations. It could be as simple as the table below (prices listed are based on Yachtly's 4-hour rental and add-ons):
| | | |
| --- | --- | --- |
| Item | Quantity | Cost |
| Yacht rental | 1 | $1,500 |
| Food and drinks (BBQ) | For 20 guests | $24 x 20 = $480 |
| BBQ Services (BBQ pit, cooking, and cleaning) | 1 | $150 |
| Decorations | 1 set | $50 |
When ordering and buying these party supplies, try to stay within your allocated budget.
If you need to cater more budget for food and drinks, you can consider adjusting other costs such as the decorations.
You can bring your own food and drinks onboard, but you'll have to bring your own cutlery too. There are no corkage fees if you're bringing alcohol.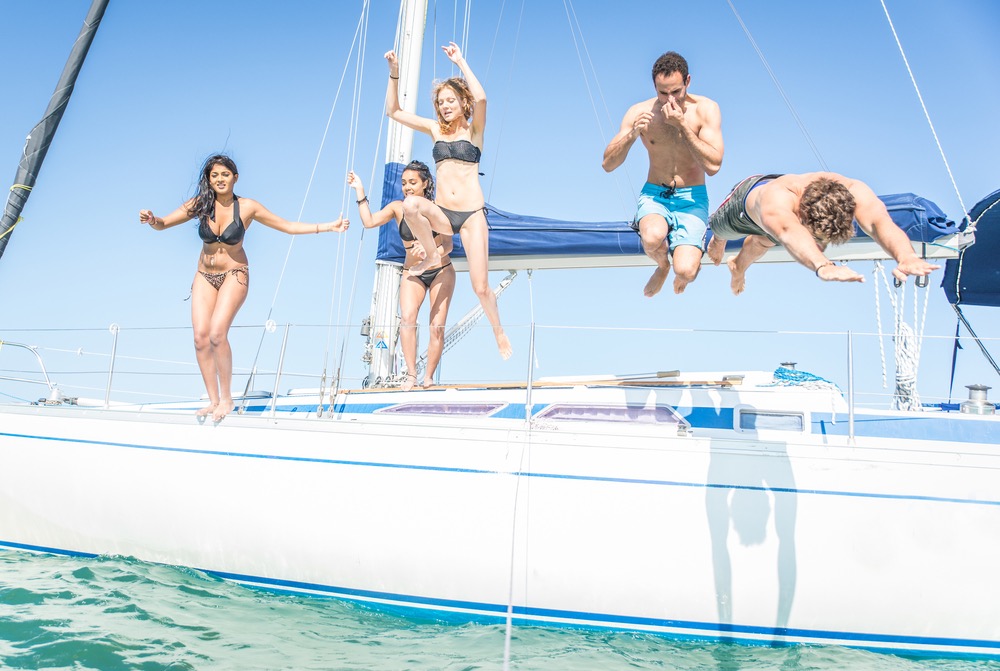 6. Plan activities and entertainment
There are many ways to entertain your guests onboard. Depending on the yacht you're renting, there are facilities like karaoke system, floats, and snorkels available onboard.
For instance, you can have the yacht stop at the smaller islands such as Lazarus Island to chill and sun-tan at the beach. You and your friends can also jump into the sea for a swim, snorkelling, or just lie on the floats and enjoy the sea breeze.
Prefer to stay indoors? Have some fun with the karaoke system by having a competition to find who can sing the worst. You can bring along a Bluetooth speaker and blast some music to liven up the atmosphere too. Be sure to set a playlist of songs that suit the theme of the party and include songs that your guests will enjoy.
7. Make a guest list
Start by deciding if you're inviting a small or large group of people to your private party. Since different yachts have different capacities, the number of people coming to your party influences the kind of yacht that you're renting.
Once you've settled the guest list, you can start sending your invites.
Be sure to get your guests to RSVP (and remember to follow up too), so that you can book a yacht that can accommodate everyone that's coming. Plus, you won't have to worry about gatecrashers, like your friend's friend who loves showing up at parties unexpectedly.
8. Prepare food and drinks
Last but definitely not least, a party is nothing without food and drinks.
You may choose to prepare your own food and drinks (including alcohol) and bring them on board. But if you find that bringing them can be a hassle, you can always order BBQ or catering as an add-on to your yacht booking.
Whether you're bringing your own food or catering through Yachtly, be sure to ask your guests if they have any dietary requirements beforehand. If you have Muslim guests, don't forget to include Halal food items for them. Ensure that there's also vegan or vegetarian options to accommodate your vegan or vegetarian guests.
There you go! Follow these 8 tips and you'll soon be creating the best exclusive party experience on a yacht for your friends!
Considering yacht party? Organising one can cost as low as $500+!