A wedding is a momentous event. Saying your vows is a once-in-a-lifetime occasion, and wedding venues are arguably one of the most crucial factors in the entire experience.
Today, there are just so many wedding venues in Singapore for you to choose from.
Given that there's more variety and choice now than ever when it comes to the perfect venue for your wedding, you don't always have to stick with the "safe" choice.
What's more, you don't even need a huge budget for wedding venues that are both stylish and unique.
Whether you're looking at a budget wedding in Singapore or have more cash to spare, you just might be surprised at how much it costs to have your wedding solemnisation on a yacht.
But before we go into that, let's take a look quick look at common wedding venues in Singapore for solemnisations.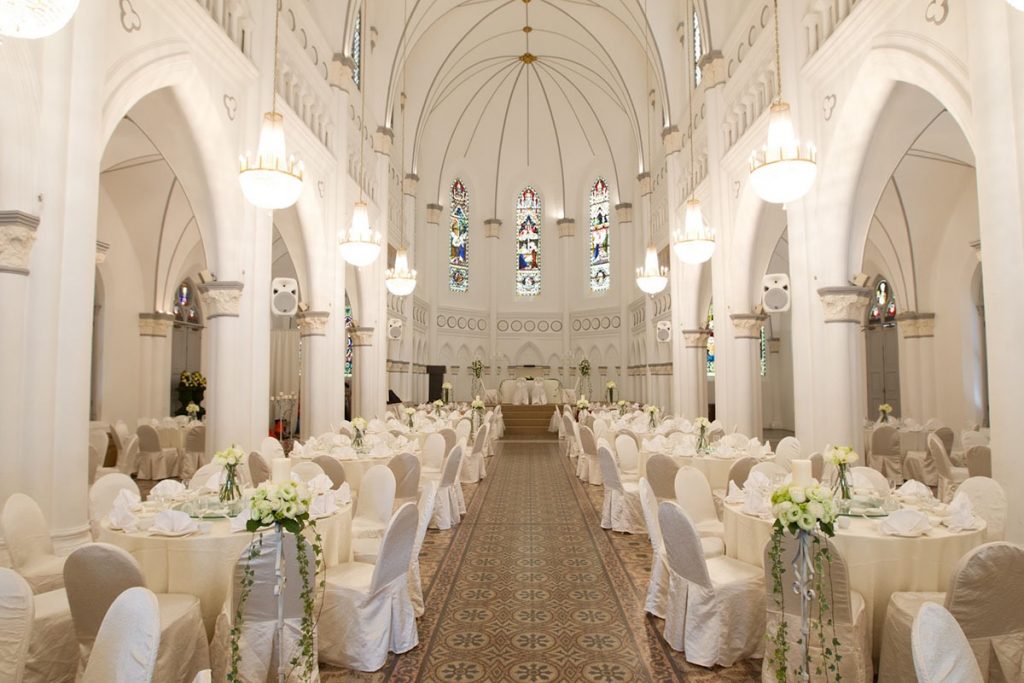 Typical wedding venues in Singapore for solemnisations
Common choices for wedding venues in Singapore often include a swanky restaurant, purpose-designed wedding halls, a beautiful and classic chapel, or a hotel.
While wedding halls in Singapore are popular as a solemnisation venue, there are also slightly more unconventional wedding venues that people choose.
This includes various rooftop or 'sky-gardens', beach weddings, as well as the Singapore Flyer. Traditionalists may opt for a chapel or a church ceremony.
You've probably seen photos of these, such as beautiful beach weddings in Singapore. The wedding venues are often decorated based on the couple's wishes and preferences, and some may choose to hold their solemnisation ceremony in tandem with a wedding lunch or banquet.
However, these are all relatively typical, run-of-the-mill locations.
Sure, the Singapore Flyer's fairly interesting. But imagine this – you and your spouse-to-be, saying your vows on the deck of a beautiful yacht, with the sound of the waves against the hull, the sea breeze against your skin and the wide, open sky as your backdrop.
What are the advantages of a yacht solemnisation?
Well, first off – getting married on a yacht is pretty impressive – you'll probably get some social clout points for hosting your wedding on a yacht.
Secondly, it's a unique experience, and you get tons of Instagram-worthy moments. Nothing says "dream wedding" quite like a wedding gown blowing majestically in the sea breeze against the backdrop of the deep blue sea.
Here are some other perks of tying the knot with your true love on a yacht!
Looking for affordable wedding venues? A yacht might be right for you
Now, just because yachts are associated with the wealthy doesn't necessarily mean they're going to burn a hole in your wallet.
Here at Yachtly, our starting prices for yacht rental can be as low as $500+ for four hours, and this price includes water activities as well as karaoke systems and island exploration.
It's photogenic
Remember that "Instagram-worthy" thing we mentioned? You can choose the theme for your solemnisation, and the decor will be provided for you.
Alternatively, you can also request to put up your own decorations – as long as they're suitable for the yacht.
It's fun for everyone
A bonus is that a yacht wedding combines both fun and ceremony – after the serious stuff is over, you and your guests can have a lot of fun.
Depending on the yacht you charter, they come with a variety of water toys, and many will come equipped with a karaoke system.
There's something for everyone – your more adventurous guests can go snorkelling or jet-skiing. For the laid-back ones, they can lounge on the deck and sunbathe, or go fishing.
BBQ by the sea
Although you won't get a multi-course banquet, you can still have a delicious BBQ, freshly cooked onboard the yacht for you by the crew.
If BBQ isn't quite your thing, there's a catering option that we provide. You can also bring your own food if you'd like – just remember that only the crew is allowed to cook onboard for safety and insurance reasons.
What should you consider when choosing a yacht for your solemnisation?
Just like other wedding venues in Singapore, you'll need to take into account logistical considerations like guest numbers and budget when it comes to choosing your ideal yacht.
Some yachts are better equipped for certain activities than others. Also, if you're having a relatively large gathering, you'll want to get a bigger yacht with more space for people to mingle comfortably.
Here's a list of things to consider before shortlisting a yacht as one of the wedding venues for your solemnisation.
What your budget is
You don't want to begin a new chapter of your life in serious debt, so planning out a budget is an important first step.
Your budget will determine how many guests you can invite, which also determines the kind of yacht you'll want to charter, and so on.
The timing of your booking
On Yachtly, yacht bookings are made in real-time.
This means if someone else happens to confirm a booking for a yacht at the same time slot that you were eyeing, the site will be updated, saving you the trouble of a lot of back and forth with the owner to find out when the yacht's available.
It's best to make your booking as early as you can in order to secure the date and timing you want.
The timeslot you choose also depends on what you have in mind. Do you want more time to play in the sea and do water activities, or would you prefer a more romantic setting with a sunset by the bay and dinner under the night sky?
Mornings are usually brighter, which may be a factor to consider if you're planning on lots of photo opportunities. Afternoons are hotter, but are a good lead up to the sunset.
How many guests are coming
You'll also need to narrow down your guestlist and determine how many people are expected to turn up.
Each yacht has a maximum capacity for safety reasons, and can only carry as many people as it's certified to hold. The more people you want to invite, the larger the yacht you'll need to charter.
Also, consider how many adults, children, and elderly folks will be present. Certain yacht types are less suitable for the very young and elderly, as well as those prone to seasickness.
Food and beverage
Once you've finalised your guest list, the next thing to think about is how much food you'll need for your event. You can either order your food and beverage through us, or bring your own.
We can't offer you a typical eight-course Chinese banquet, but we can provide a delicious BBQ spread, prepared for you onboard the yacht by the crew.
Alternatively, if you're not too keen on BBQ, we also have cooked food that will be delivered to the yacht from our catering partners.
If you decide to bring your own food, that's perfectly fine too – just remember that any cooking can only be done by the crew of the yacht.
Since there are no corkage fees, you can even bring your own alcohol!
Amenities offered
If you're bringing your own beverages, every yacht comes equipped with an icebox and fridge to keep your drinks chilled.
Most of them will also have a sound system, so you can play your favourite love songs! Other yachts have karaoke systems as well, so you and your guests can also sing your hearts out!
When the yacht docks, you and your guests can indulge in water activities. There's the option to just dive straight into the sea for a swim, or play with water toys. Most yachts will carry them, including things like inflatables, paddleboards, kayaks, and even jet-skis for some.
For those who aren't keen to get wet and simply want to relax, they can simply lounge on the deck and soak up some sun.
The 2 kinds of yachts you can rent
Here at Yachtly, we offer two main types of yacht – monohull (also known as single hull), and catamaran (twin-hull).
Here's a short summary of both yacht types.
Catamaran yachts
Monohull yachts
– Very stable, does not rock as much as monohulls
– Less prone to wave action
and more suitable for elderly, children, and those prone to seasickness
– Easy to dock
– Highly maneuverable
– Smooth sailing experience as they cut through water easily
– Good for the adventurous
Catamaran
Catamarans, also known as twin-hulls, have two hulls that are joined by a frame.
They have two engines, one in each hull. Most modern catamarans can do 360-degree turns within their own length, and are much easier to dock (although they do take up more space).
These yachts are also very stable, and don't rock and roll like their monohull counterparts. For families with younger children or elderly people, this is a big plus.
Catamarans are also less susceptible to wave action, so those prone to seasickness will feel less of the wave motion on a catamaran.
Monohull
Monohull yachts are yachts with a single hull.
Monohull yachts are highly maneuverable. These yachts also cut through the water effortlessly, and they don't experience the water-slapping issues that catamarans have, so sailing is smoother.
While monohull yachts aren't as stable as catamarans, they have better "self-righting" capabilities in the event something knocks them over.
Monohulls are more suitable for those who want a more adventurous sailing experience – this is especially during heeling, which is when a boat leans over the water due to winds.
Yachts that we recommend as your wedding venue in Singapore
Here are our top yacht picks for your wedding solemnisation – ranging from a 50 ft power catamaran with a luxury game room, to a smaller 40 ft yacht for a more intimate gathering.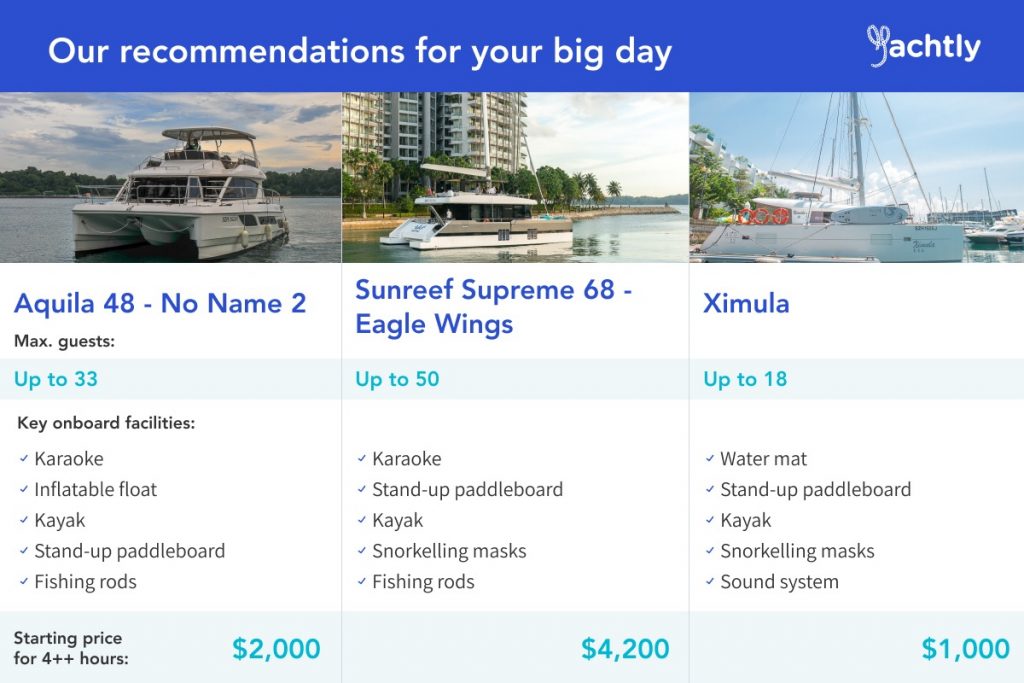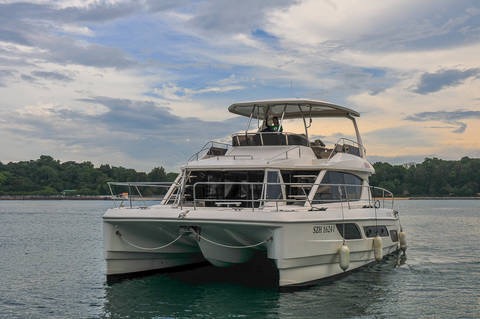 This 50 ft power catamaran provides an expansive entertainment level. It has leather furnishings, and a state-of-the-art entertainment system that includes karaoke, numerous flat screens, and a brilliant lighting system.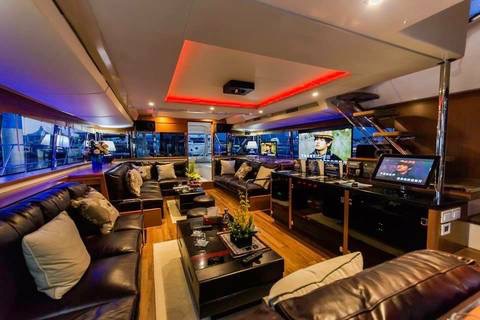 The lower level of the yacht houses a luxury game room with a fully-automatic mahjong table and powder room, a galley, and two private en-suite staterooms.
If you or your guests love mahjong sessions and singing karaoke, this will be the right yacht for you.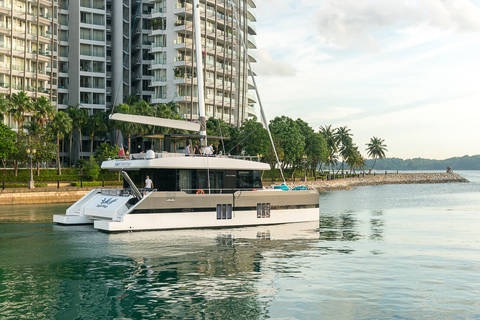 This comfortable and spacious yacht has a seamless panoramic lounging and dining area, as well as plenty of space internally and externally across three levels.
The yacht also has state of the art karaoke and presentation equipment.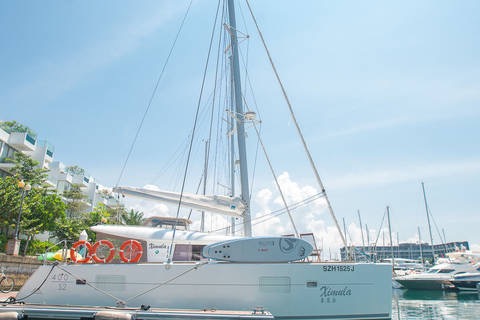 This yacht comes with a fully equipped galley, and can store all your food and refreshments with ease. This is also a sailing yacht, so when the wind is good, it will deploy its sails for a leisurely cruising experience.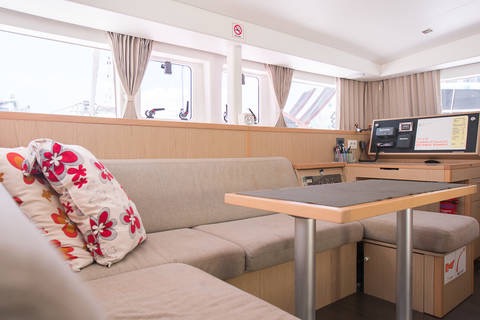 How do I rent a yacht with Yachtly for my wedding solemnisation?
Renting a yacht used to take a long time. You'd have to fill up a form (or several), submit it, and wait at least one working day to hear back from the rental company.
But with us, we dare say it's almost as simple as booking tickets to your favourite movie!
With Yachtly, you no longer need to wait for a booking confirmation, or deal with the troublesome back and forth of documentation.
The availability and price of the yacht is immediately viewable on the yacht's page. Simply choose a date, the duration of your event, and how many guests are coming.
There's also a live chat function, should you have any questions regarding bookings or additional services.
Simply follow these simple steps to rent a yacht through our website.
Step 1: Pick your event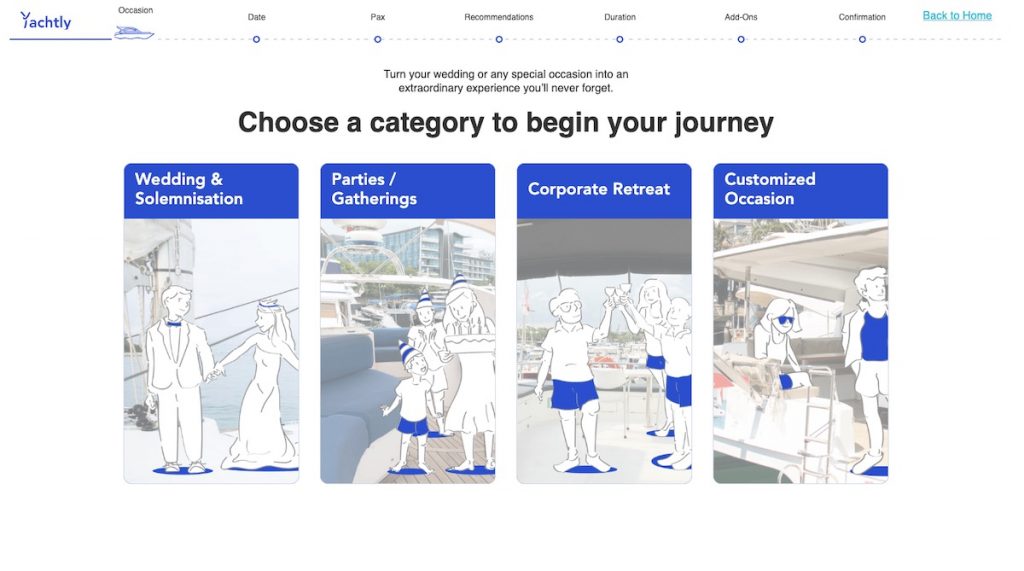 First, select the 'Wedding & Solemnisation' category on our booking journey page.
Step 2: When is your event?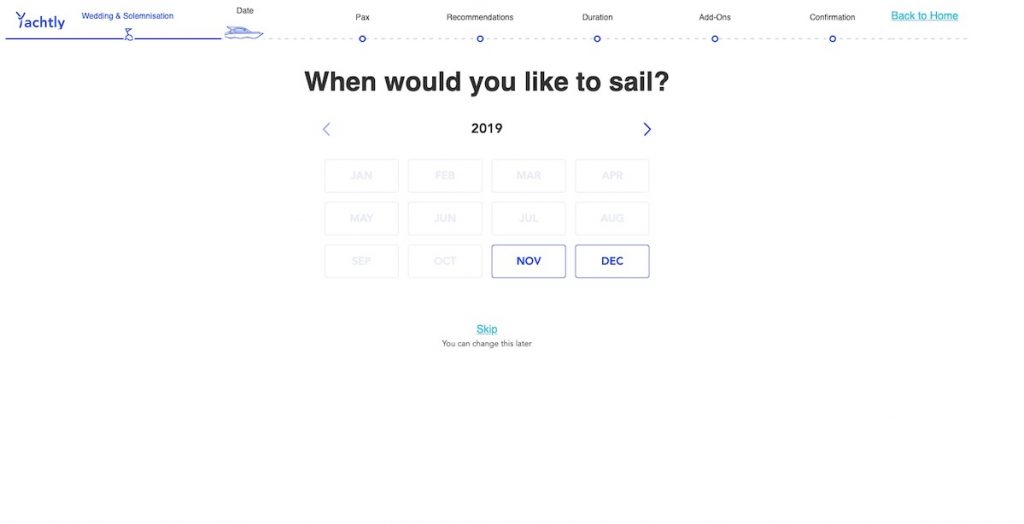 Next, you'll need to let us know when you want to sail.
Simply choose the month, followed by the date of your solemnisation. Alternatively, if you haven't confirmed it yet, you can skip this step and come back to it later.
Step 3: How many guests will you have?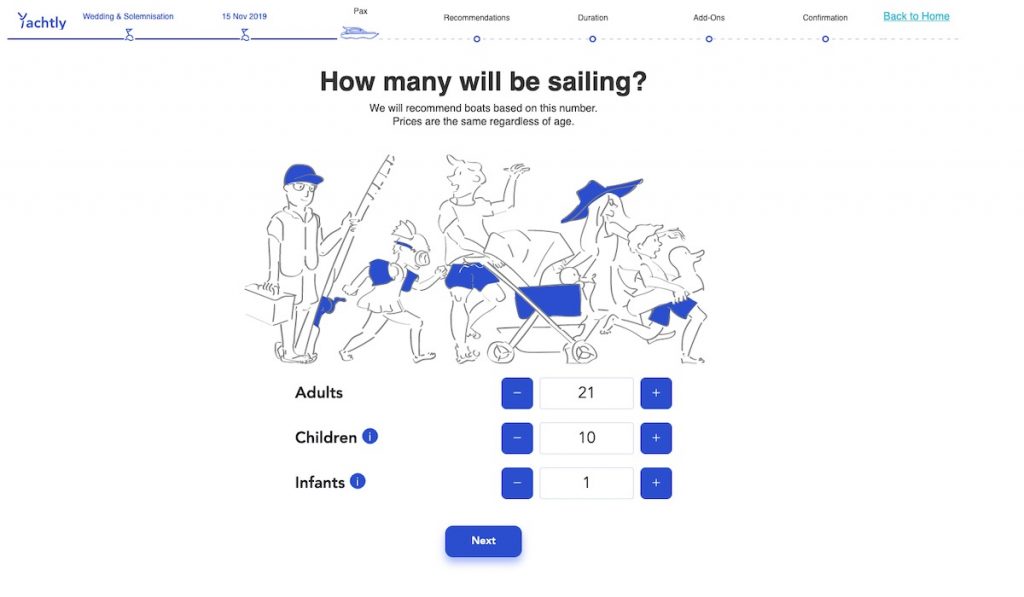 You'll then be asked how many guests you'll be inviting to your event.
Yachtly uses this information to shortlist suitable yachts for you, and the cost per pax remains the same regardless of age.
Step 4: Browse the yachts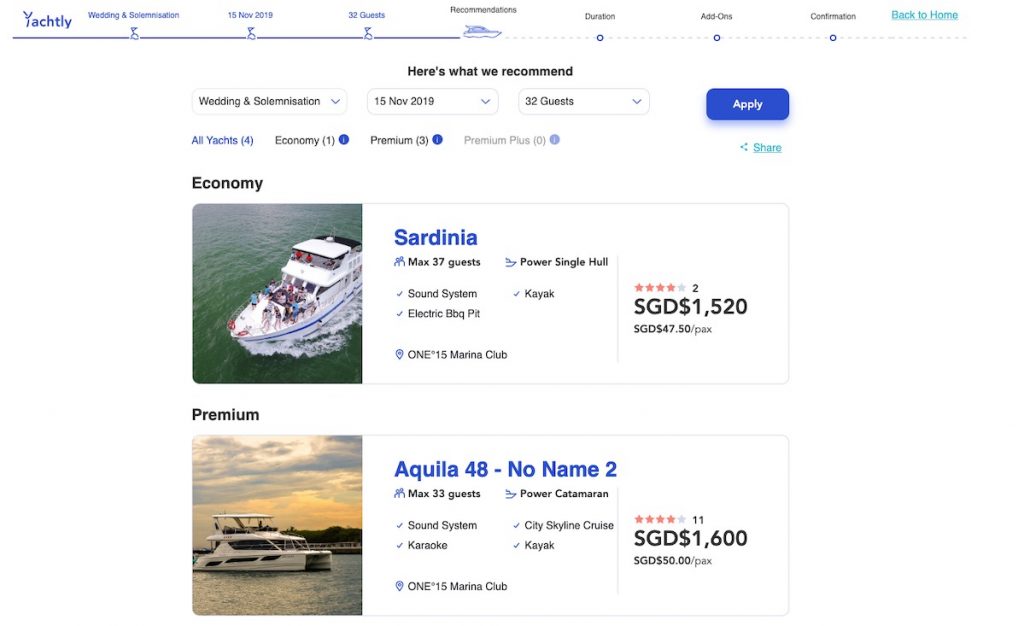 Once you've told us how many people will be sailing with you on your special day, we'll show you a shortlist of yachts suitable for your event.
From here, you can modify the date and number of guests through the drop-down menus at the top of the screen.
To view more details about any given yacht, simply click on its listing.
Step 5: Confirm the timing
When you've chosen a yacht you're interested in, you'll be taken to a detailed information page. Information such as the itinerary and what facilities are onboard will be displayed.
You'll also get to see boat details like the owner's name, the boat type, how many cabins it has, and what year it was built.
You'll also need to select the start and end times of your charter.
Yacht bookings are offered at a minimum of 4-hour blocks, though you can charter one for more than 4 hours if you so desire.
Once your timings have been chosen, you will then be given the option to select Add-Ons.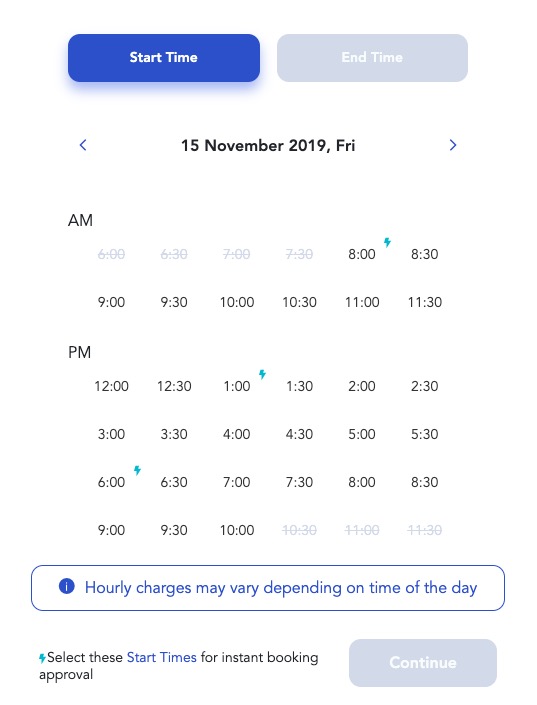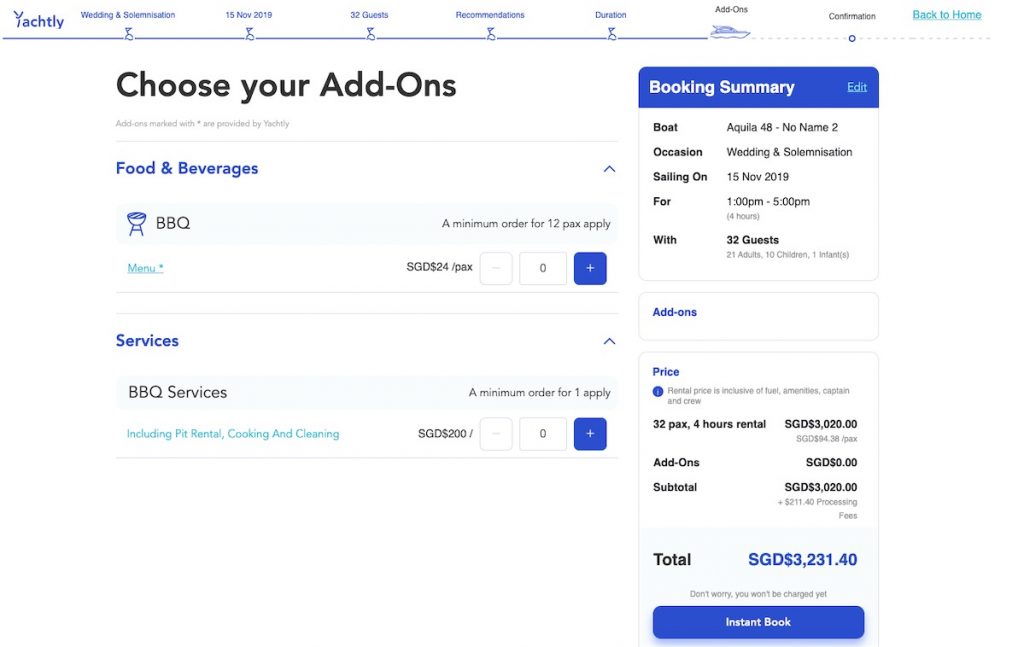 If the yacht offers any BBQ services, you can select it at this page. The BBQ service is a nominal fee for the crew to set up the pit, cook and serve the food, as well as cleaning it up after. This service doesn't include the actual food for the BBQ, though!
You can order the food through us, or bring your own. You will also be able to review the final cost of your charter, and make amendments if you require.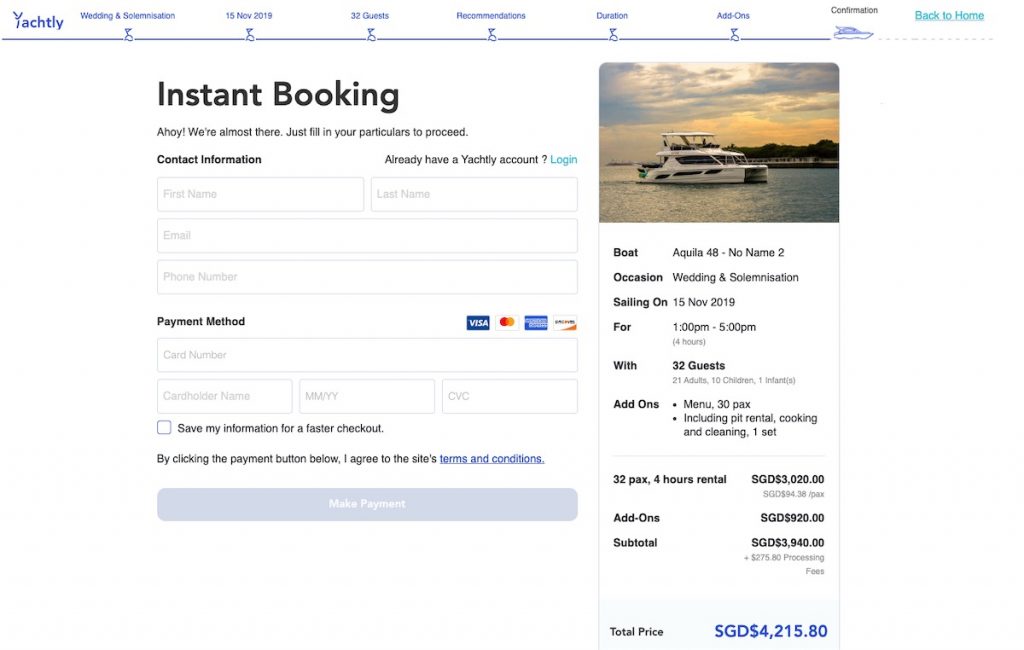 Once you confirm the details, you'll be asked to enter your payment details. Simply key in your credit card information, and your booking is confirmed!
Commonly asked questions about yacht rentals with us
Renting a yacht comes with guidelines and rules, and each yacht will have its own set of rules that guests should follow.
The one rule in common across all yachts is: Always listen to the captain!
That aside, here are the answers to some of the commonly asked questions we face. We hope they come in useful for you!
If there's something else you're unsure about, you can always drop us a message here through our chat function at the bottom.
1. Are there any hidden costs?
There isn't. The price covers everything under "What is Included". Any add-ons are just that – add-ons, the prices of which will be listed when you make the booking.
2. What happens if I need to cancel my booking?
Each yacht has its own cancellation policy. You can view our cancellation policies here.
3. What happens if I need to change my booking after confirmation?
No problem! Get in touch with us and we'll help you out.
4. How do I know if my booking is confirmed?
You'll receive a confirmation email with your booking reference, along with all details pertaining to the charter.
5. What is the difference between "Instant booking" and "Request to book"?
The difference between the two is whether you're guaranteed a yacht at the date and time you've chosen.
6. I'm bringing all the food and drink. Do you supply cutlery?
If you're bringing your own food and drink, you'll have to bring your own cutlery. If you ordered food through us, we'll provide it.
Do also remember to bring disposable plastic cups, since the yacht may run out of supplies.
7. Any extras or necessities I should bring for the charter?
We recommend that you bring a spare change of clothes and towels, since a lot of the activities onboard will involve water. Also, for bookings in the daytime, we recommend bringing sunscreen.
8. Any terms and conditions or legal stuff I need to know?
For all the legal details, check our page here.
9. I want my pet to be the ring-bearer. Are pets allowed onboard?
Regretfully, we don't allow pets onboard the yachts.
10. Can I stay overnight on the yacht?
You can! Please drop us an email at [email protected] and we'll work something out for you.
11. What if it rains on my special day?
Singapore is a country with a tropical climate, so thunderstorms and passing showers are expected now and then.
If it's just rain or a light drizzle, the charter will proceed since there is no impending danger to property or any lives. If the rain develops into a thunderstorm, we'll delay the charter for up to an hour.
If the weather doesn't clear up, we'll reschedule your charter to a mutually agreeable date and time. We recommend contacting your captain to get an onsite assessment of the weather.
If you need more information regarding our policies for renting a yacht, check out our full FAQ here.