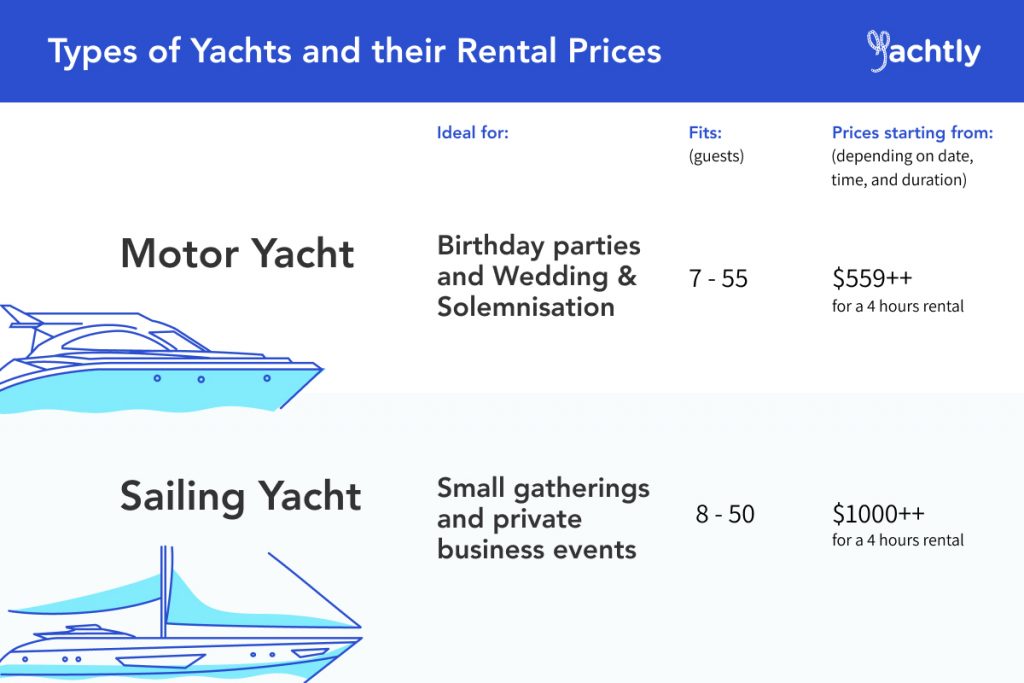 When it comes to yacht parties, people often think of social events occupied by some of the wealthiest people. In Singapore, we refer to these people as 'high-SES'; or people of high socioeconomic status. But did you know that you can book cheap yacht rentals for only $400? Yes, that's less than a night's stay in Marina Bay Sands!
If you have been willing to fork out money on staycations or chalets in Singapore, then you'd surely want to a yacht party rental for about the same price. Through sharing economy, you can now rent any of our yachts at a cheap rental price.
It doesn't matter if you're organising a romantic getaway or planning a company milestone trip – we offer cheap yacht rentals in Singapore to fit any occasions.
In fact, we might probably be the cheapest place to rent a yacht in Singapore.
What types of yachts are there for me to rent?
Each yacht has its unique features to offer.
Certain yachts can accommodate more people on board, making it ideal for gatherings like birthday parties or corporate events. Other yachts with sleeker designs are made for travel, making it ideal for long-distance cruising, or even yacht racing.
Depending on the types of yachts, yacht rental prices also differ. Factors such as the number of guests invited, the size of the yacht, and other activity add-ons will determine the total budget.
To hand-pick one suitable for you, you'll first need to understand how different yachts cater to different purposes.
Yachtly is a platform for renting yachts. We offer two main types of yachts: monohull yachts and catamarans. Each of this is a subset of motor yachts and sailing yachts. Let's take a look at what each yacht is suitable for.
Motor Yachts
Motor yachts are one of the most popular vessels when it comes to the demand for a luxurious yacht charter. For that reason, it's probably a good thing that they're amongst the most widely available forms of yachts as well.
Monohull motor yachts
Monohull motor yachts are perfect for thrill-seekers. If you're renting a yacht for birthday parties, monohull motor yachts would be the best choice. At an average length of 78 ft, these large yachts can accommodate all sorts of parties and a large number of people.
Catamaran motor yachts
Catamarans yachts have great manoeuvrability because of its twin engines. This makes it easier for the yacht to dock too. Some catamaran motor yachts also offer plenty of amenities onboard.
Depending on its space and storage, you may find Jacuzzis, swimming pools, entertainment systems, and other sorts of facilities. You and your guests can also sail to different locations as long as it remains within legal waters.
Sailing Yachts
Compared to a motor yacht, sailing yachts are smaller in size. They range from 30 ft to 59 ft, commodious enough to host events such as children's birthday parties or private business events.
Monohull sailing yachts
Sailing yachts have a vintage, and romantic feel to them that motor yachts lack. If you ever wanted to re-enact Rose and Jack's scene from the Titanic, this is a great place to start.
Chartering a sailing yacht can allow you to truly experience the vitality of sea life, and appreciate the engineering that made wind power possible. A monohull sailing yacht is also almost impossible to capsize, making it extremely safe at sea.
Catamaran sailing yachts
Catamaran sailing yachts are becoming increasingly popular thanks to their majestic grandeur. The stylish interior gives couples every reason to hold their wedding on a catamaran.
Given its generous board space, it can accommodate full-size cabins, en suite facilities, and comfortable living areas.
If you're looking for something more high-end, you can check out our sailing catamaran. The rental fees for this premium yacht start at $4200. Given its price, you know it's no ordinary yacht.
Other Yachts
Yachts such as expedition yachts, classic yachts, and open yachts are also excellent choices.
Expedition yachts are designed for long cruises – perfect for those who have an unbridled desire to see the world. They are also built for power, stability, and efficiency, making them one of the safest types of yachts in the world.
Classic yachts have a romantic feel to them. As if made for Insta-worthy pictures, these yachts possess graceful lines, fine craftsmanship and a raw character. Newlyweds can also cruise in a classic yacht to their honeymoon destination!
Open yachts – also crowned as the sports car of yachts, are a favourite amongst yacht enthusiasts. Its sleek, sporty look, along with its high performance is akin to that of the thrill of riding a jet ski.
Finding an ideal yacht to rent for your occasion
Finding an ideal yacht is no different from finding your desired hotel room. Yachts are usually custom-tailored to meet the needs and preferences of its yacht owner. This means that every yacht comes in different designs, serve different purposes, and different sets of rules to observe.
Half your job is done once you establish what you're renting a yacht for. Here are some common occasions people get cheap yacht rentals for.
Celebrations
If you're looking to throw a yacht BBQ party, we provide cheap yacht rentals at an affordable price of approximately $560. Compared to the usual celebrations held in hotels or chalets, yacht parties provide an indisputably thrilling experience for you and your guests.
Wedding & Solemnisation
Exchanging vows onboard a yacht defies the norm of holding a Wedding and Solemnisation on land. Couple it with a starry-eyed setting, this occasion marks a unique experience to be remembered. Chartering a bareboat yacht has a starting fee of $1000, and additional costs will apply for dinner, decorations and other equipment rentals.
Corporate Events & Gatherings
Whether you're thinking of a private gathering or planning for a company retreat, the platform has mid-sized yachts catered for such occasions. For private business events, a prestigious catamaran starting from $1600 is a good choice. Whereas for a close-knit company retreat, a smaller catamaran at a modest rental price of $649 will suffice.
You don't even have to be having an occasion to rent a yacht – you can do a yacht rental just to ferry you around Singapore's waters, or even rent one as a fishing boat if you so desire.
Things to consider before renting a yacht
Now that you have established the occasion, here are a few essential things to consider when getting cheap yacht rentals.
1. Budget
Before anything else, you need to figure out how much budget you have or how much you're willing to spend on a yacht party.
Although we offer cheap yacht rentals in Singapore, you should take into account the prices of additional services. For example, you may require more water toys if you're inviting more guests.
Other things to account in your budget may include things such as foreign currency for overseas activities and emergency funds.
2. Guests
Depending on the size of the yacht, the amount of people you can bring on board is limited.
Smaller yachts are suitable for private parties, while larger yachts are more suitable for large gatherings such as birthdays or corporate events.
It would be helpful to create a guest list beforehand to help you determine the size of the yacht you intend to charter.
Certain yachts may also be unsuitable for specific demographics. For instance, pregnant women and the elderly may want to refrain from chartering superyachts, while children may require extra safety and supervision.
3. Activities
Knowing whom you intend to invite, as well as their preferences, will definitely help in planning your itinerary. It can also help you to decide on the type of yacht that you want to rent.
For instance, if you're planning on throwing a party with friends who love watersports, you may want to consider renting extra water toys.
You can also have dinner on board the yacht, prepared for you by the crew. If your rental takes place at night, you might also get to see Sentosa's fireworks!
Yachtly's recommendations for cheap yacht rentals
Even if you're a first-timer, you can safely skip the trawl online. To make things simpler for you, we've provided a filtered search to cater to your budget or occasion. Whether you're looking for value-for-money, or willing to splurge a little, there's something for you. Here are a few in-demand yachts.

| | | | | | |
| --- | --- | --- | --- | --- | --- |
| Class | Economy | | Premium | Premium Plus | |
| Boat name | The Clipper Heritage | Lagoon 400, Whitesails | Sealine F43, Achates | Lagoon 620, JYOHANA | Eagles Wings 2, Sunseeker Manhattan |
| Length | 45 ft | 40 ft | 45 ft | 62 ft | 64 ft |
| Number of guests | up to 18 guests | up to 18 guests | up to 18 guests | up to 37 guests | up to 22 guests |
| Min. booking | 4 hrs | 4 hrs | 4 hrs | 5 hrs | 4 hrs |
| Price | $750 | $649 | $1000 | $3550 | $1699 |
Economy
If you're looking for cheap yacht rentals in Singapore, the Clipper Heritage is one of our most value-for-money and sought-after yachts.
Priced at $750 for 4 hours, this 45 ft long private boat can accommodate up to 18 guests at a time, which makes it perfect for family gatherings and graduation trips.
More importantly, there's something for everyone. There are amenities such as kayaks, snorkels, and water trampolines, all quintessential for watersports lovers. Fishing rods are also available onboard, so you can fish while the yacht cruises around Singapore.
You can rave to songs from your teenage years with the karaoke set, or even whip up a sumptuous meal for your guests with the onboard kitchen. Sunseekers can also laze around the flybridge while sipping on booze.
The best part about renting a private yacht? You're free to schedule whatever activities you wish any time you want, as long as it sticks to the rules and regulations. This way, you won't have to plead for an extra five minutes of snorkelling or to take pictures while you're island hopping.
For $649, you can rent the luxurious 40 ft catamaran for 4 hours, making it one of the better options if you're looking for cheap yacht rentals in Singapore.
If you don't already know, catamarans are known for their high speeds. Their low resistance allows the boat to slice through the water, providing greater stability than ordinary yachts. The Lagoon 400 is one of the most versatile yachts in the economy classification.
The Lagoon 400 offers the comfort of an upscale home and entices you with the tantalising promises of a good life. Similar to The Clipper Heritage, there's a range of water activities available to add onto the already impressive list of activities you can do. If you're still yearning for more excitement, you can rent more water toys or engage a BBQ service.
Premium
Achates is the most popular premium yacht, offering a flybridge that dwarves its peers in size. At 45 ft long, the Achates can accommodate up to 18 guests. This boat provides unrivalled space for you and your guests, especially if you're holding a bachelorette or birthday party.
Starting at $1000, you can book the Achates for 4 hours – it's one of the most value-for-money yachts in the premium classification.
Premium Plus
Our premium yachts are already extravagant, but the ones in premium plus are a league of their own. JYOHANA, a Lagoon 620, is the pride of our charter fleet. You'll experience a boat designed specifically for comfort, performance and spaciousness.
This 62 ft yacht can hold up to 37 guests, making it one of the largest yachts in our arsenal. Its open-plan saloon and a stupendous amount of outdoor space make it ideal for special occasions such as marriage ceremonies, company events, or prodigious 21st birthday celebrations. It also acts as a great way to impress any foreign clients that you might be entertaining.
On top of the usual audiovisual systems and water toys offered, the Lagoon 620 is also fully air-conditioned. Sun pads and a bimini top (a type of shelter for the yacht) are also available at the upper level. If you dislike the harsh Singapore sun, you can take refuge indoors and still be able to enjoy the sea breeze.
Lagoon 620 also offers alfresco dining, guests who choose to cruise in the evening will be able to wine and dine to the scenery of Singapore's magnificent skyline. The particularly lucky ones may also be able to catch the spectacular fireworks show that sometimes happens around Sentosa.
If you want to get a kick out of this 5-star yacht, the rental fee starts at $3550 for 5 hours.
Our more affordable Premium Plus yacht, Sunseeker Manhattan, can be chartered at a cheap yacht rental price of $1699 for 4 hours. This Eagle Wing 2 is versatile for all types of events. The ample space onboard makes all kinds of social activities possible.
Whether you're planning a bachelorette party or a company get-together, this yacht will leave you and your guests in awe. Our amiable crew will also provide you and your guests with exquisite services.
Now that you have figured out everything about renting a yacht, these last few pointers can help answer some questions you may have.
Does it cost extra to decorate the yacht beforehand?
We'll allocate 30 minutes ahead of your booking time for you to decorate the yacht. If 30 minutes is insufficient, you may email us to book for the extra rental time.
Is there a corkage fee?
No. We do not charge corkage.
What are the cancellation policies?
There are different cancellation policies for each yacht. But in general, a full refund will only be granted if you have cancelled your event 30 days before your event date.
50% of the yacht's rental price will be repaid if you have cancelled your event 14 to 29 days before your event. Should there be any disputes, we will mediate and have the final say.
A reservation is officially cancelled when the guest sends in an official email to us.
Are there hidden costs?
Nope. We are straightforward and transparent with all the costs.
All prices are inclusive of the items under "What is Included". Additional items and services are appended in the "Add-On" tab.
Are prices inclusive of GST?
No, GST is not included. It will be reflected prior to check out.
How much time is the price of the yacht for?
The duration for each yacht is different, and it depends on your choice of time slot. A time slot is the length of time allotted to you when you make a yacht rental. Our yachts are charged in blocks of either 4 or 6 hours. Prices may fluctuate for bookings during weekends or public holidays.
Do take note that starting prices will increase if there are more members coming on board.
Are there additional charges if I exceed my time slot?
The Captain will ensure that all yacht charters end on time. Punctuality is important as there may be another charter after you. If the allocated time slot is insufficient, please work with our Captain onboard, and we'll try our best to make the necessary arrangements for you.
Alternatively, you can drop us an email prior to your yacht booking. We can discuss your needs and what works best for you before proceeding with payments.
Are there peak season surcharge?
There are no peak seasons when it comes to yacht booking in Singapore. However, the yacht rental prices will fluctuate during weekends and public holidays. The cost of your rental also highly depends on the number of hours rented.
Do take note that the minimum duration that you are allowed to book a yacht for is 4 hours.
Are there any cancellation charges?
You can get a full refund if you cancel 30 days ahead of your yacht booking. However, extra charges will be incurred for cancellations less than 30 days before the sail date.
Have more questions? Head over to our FAQs page to clear your doubts!
Celebrating special occasions on a yacht will give you a once-in-a-lifetime experience. When you book with us, we'll do our best to ensure that everything goes well and goes as planned.
Our yachts are also reasonably priced and value-for-money, making us one of the best yacht charter services in Singapore.
If you have any questions, feel free to drop us an email and we'll get back to you as soon as possible.